In a column entitled RECORD SHOP from The Gleaner (June, 1971?), writer unknown, the following was written:

"Two years and three months ago, three brethren got together to record a song. Not many people had heard of the Abyssinians, in fact only one member of the group Linford Manning had ever sung before professionally. He was responsible for the very popular "Love Me Forever" recording by Carlton and the Shoes.

The song which the Abyssinians did was very slow in reaching the ears of the public. Only the regular dance fans, the followers of King Tobby's [sic], Sir Percy, Sir George or any of the top sound systems, had the chance of hearing this song.

It wasn't until a couple of weeks ago that Satta amassagana began getting airplays. The people love it, and the record is on its way to become one of the most popular songs ever. The title which is Amharie, is a salutation to the God-King, the rhythm is earthy reggae, about the deepest it can get.
Bernard Collins, Linford Manning and Donald Manning are the Abyssinians. (Abyssinia is another name for Ethiopia which at one time was also the name for the entire Black African).

Their first song is on the Clinch label operated by them. The Abyssinians have since recorded "Send Me Back To Zion" for the Upsetter label and "Declaration of Rights" has been released on the Sold Gold album put out by Studio One.

They are not forcing themselves to the top, instead they are developing gradually, patiently, learning each new phase of the business as they go along to their final destination, the top."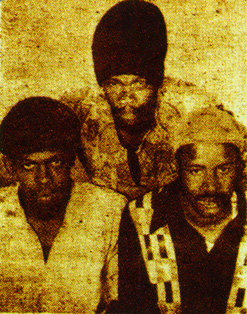 * * *